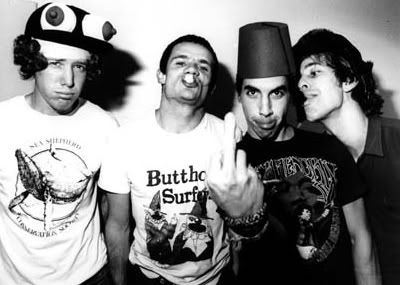 RED HOT CHILI PEPPERS.
Man I used to love these cats. I listened to their first four albums endlessly, especially
Freakey Styley
and
Uplift Mofo Party Plan
. Fuck I loved it! Then they lost the funk. They lost it and once lost it can never be regained. For that very reason I am including none of their shit videos on this jukebox, just the funky stuff. FUCK they suck so bad now.
RED HOT CHILI PEPPERS
Suck My Kiss
*****
Give It Away
*****
Higher Ground
*****
Rollercoaster of Love
*****
Show Me Your Soul
*****
Knock Me Down
*****
Fight Like A Brave
*****
True Men Don't Kill Coyotes
*****
Catholic School Girls Rule
*****
Subway To Venus (live)
*****