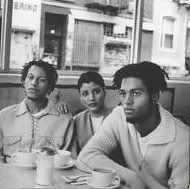 DIGABLE PLANETS
. They dig some sounds boomin' outta Jeeps where they're from. These three rappers, collectively known as
Digable Planets
, were fucking awesome. There were several MC's playing off of Jazz, notably
A Tribe Called Quest
,
Guru & GangStarr
, and
De La Soul
, but
Digable Planets
had their own thing going on. I remember sitting in the back of Jaime Instigator's mom's car as him and this girl Erin (sp?) and I drove to Savers to get some clothes. Jaime was playing the first Dig Plans album (
Reachin, a New Refutation of Time and Space
) and I fucking loved it. It was great.
DIGABLE PLANETS
Rebirth of Slick (Cool Like Dat)
*****
Nickle Bags
*****
Blackitolism
*****
Where I'm From (remix)
*****