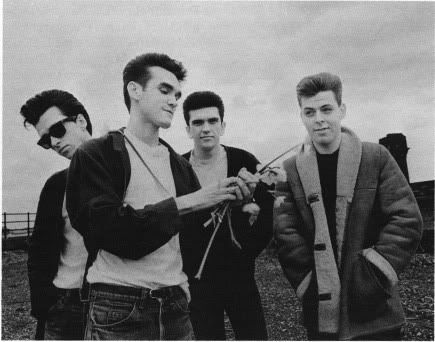 THE SMITHS
. Fuck the haters. This was one of the greatest bands ever and there is no denying it. The music, the words, the entire band, was just pure genius. Morrissey's lyrics blow most of his competition out of the water, and Johnny Marr's guitar perfectly counterbalanced the words. Morrissey was always FUNNY, and I think that too many fans and non-fans forget or overlook this. They are one of my all-time favorites.
THE SMITHS
This Charming Man
*****
There Is A Light That Never Goes Out
*****
Stop Me If You Think You've Heard This One Before
*****
How Soon Is Now?
*****
Shoplifters of The World Unite
*****
Sheila Take A Bow
*****
Girlfriend In A Coma
*****
Heaven Knows I'm Miserable Now
*****
Ask
*****
The Boy With A Thorn In His Side
*****
Headmaster Ritual